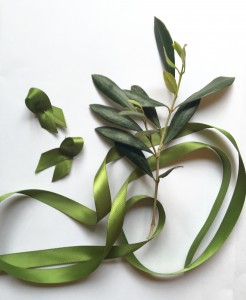 On the morning of the UN Peace Day event, we will be welcoming all with an Olive Green Awareness Ribbon.
When 9/11 struck the world in 2001, Melbourne author and therapist Pauline McKinnon (Stillness Meditation Therapy Centre) felt so moved by the turmoil and unsettling of people that she initiated an idea to help bring hope and positive action. The Olive Green Gibbon for Peace project was born as a quiet and consistent ideal.
The olive branch is a symbol of peace. To promote world peace through personal peace, you may like to wear a knot of olive green ribbon as a reminder that one small peaceful gesture may grow to greater strengths.
If would like to contribute in making the ribbons, you would be very welcome – please feel free to contact us!